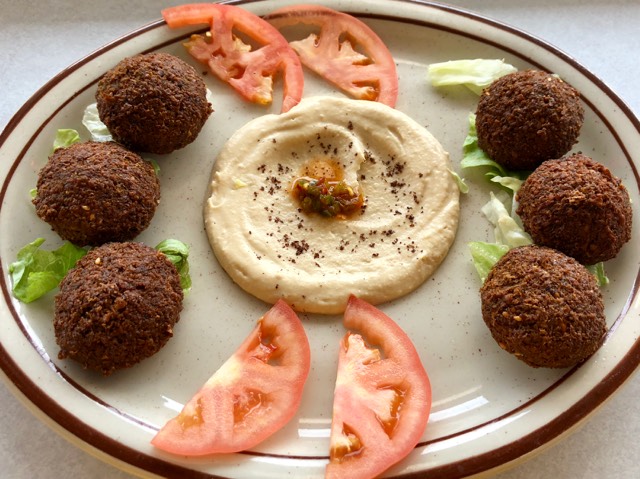 Hummus Dip
Mashed chickpeas, tahini, lemon, olive oil ; servd with pita bread
Falafel (6pc)
Ground chickpeas, parsley, onions, garlic and spices ; deep fried, served with hummus and pita bread
Spinach Pie
Greek spinach pie made with filo pastry, filled with cooked spinach and feta cheese
Beef Samboosa 3 pcs.
Pastry filled with beef, vegetables, garlic and spices ; deep fried
Chicken Wings
Spicy tender chicken wings
Gyro Sandwich
Traditional gyro slices, lettuce, tomatoes, onions and taziki sauce ; served over pita bread.
Falafel Sandwich
Falafel, tomatoes, lettuce, and hummus; served over pita bread
Philly Cheesesteak
Choice of sliced beef steak or gyro slices grilled with onions and green peppers ; served with lettuce and mayo in a hoagie style bread.
Chicken Kabob Sandwich
Chicken kabob, lettuce, tomatoes, onions and taziki sauce ; served over pita bread
Gyro Burger
Double cheeseburger topped with gyro slices and taziki sauce; served on a bun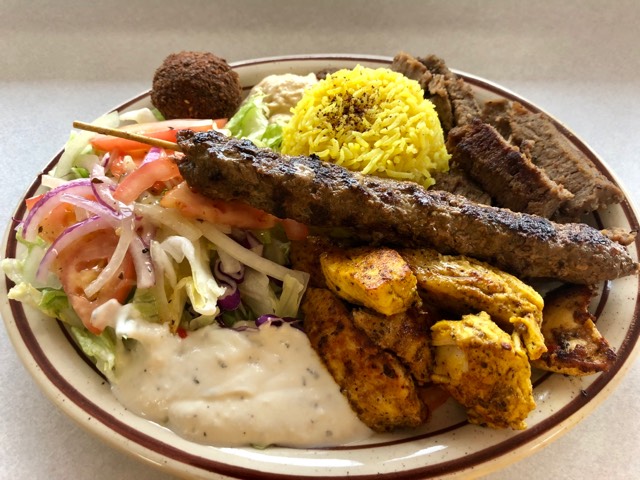 Gyro Platter
Traditional beef/lamb gyro slices
Falafel Platter
6 pieces of falafel, deep fried
Chicken Kabob Platter
Marinated chicken cut into pieces, cooked with tomatoes and onions
Mediterranean Platter
Marinated chicken kabob, kufta kabob, gyro slices
Lamb Shank Platter
Lamb shank slowly cooked with carrots, special herbs and spices